Costa Rican waters are amazing for practicing sports like surf, stand up paddle (SUP), sport fishing and for swimming in its beautiful beaches. In Guanacaste Province, you will find all kind of water adventures you can imagine.
White water rafting Costa Rica is a very popular tour among tourists. Our visitors can have a different experience while enjoying a hard-core adventure excursion in Costa Rica with family and friends.
White water rafting Costa Rica is a marvelous outdoor and water activity where you will use an inflatable, multi-person raft to navigate a mass of water. Most of these masses are rivers.
In order to help you navigate over the river, you will use a paddle. Don't worry if you are not familiar with this tool, your tour guide will be at the front of the raft to lead you through the river.
Adventure tours Costa Rica are for all and for those who love to get wet and to have a full day of adrenaline. You must know that white water rafting in Costa Rica has grades of difficulty according to the International Scale of River Difficulty.
There are grade of difficulties for all. The first one and the easiest one is level 1, which is for beginner rafters with a minimum of turbulence. For intermediates there are levels from 2 to 5.
The roughest level of all is level 6. This grade is pretty dangerous and for professional rafters who are not afraid of feeling the rush of a wild river. Be sure of understand these levels of difficulty so that you have a safety and funny adventure.
In Guanacaste Province, you will find tons of tours related to white water rafting Costa Rica. One of the funniest and adventurous is Pozo Azul rafting tour. Enjoy a sunny day in Colorado River in its class III and IV rapids.
Start your journey with your private transportation service Costa Rica that will pick you up at your hotel. Your transportation will be a nice modern air-conditioned van with a kindly and responsible driver.
Once you arrive to Colorado River, your guide will lead you to your raft and will explain you everything about white water rafting. This tour is a good fit for starters and for kids with ages over 8.
Your adventure tour in Costa Rica will take you through several class rapids depending on the season you go to Costa Rica. If you go on summer, your rafting tour will be on class II and class III rapids.
If you decide to go in rainy seasons, which is a good choice as well, your rafting adventure will be on class III and IV rapids. In this case, your Pozo Azul rafting tour will be in the latter rapids.
As you get into Colorado River, you will experience how the river moves you through water breaks and rapids. Don't be scared of the rapids, at some point the calm will arrive as you enter into amazing natural pools.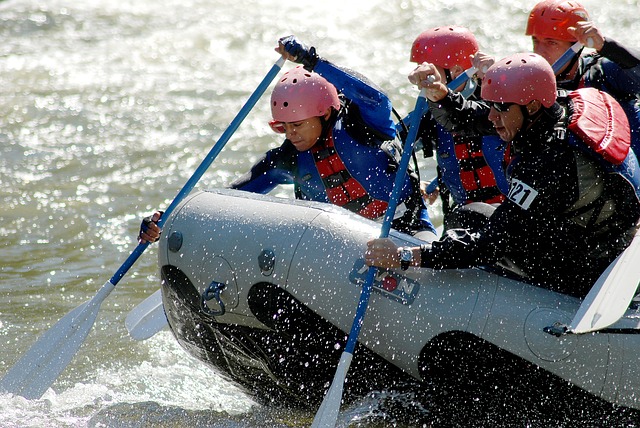 Your professional tour guides will show you the marvelous breathtaking river canyons, volcanic rocks and rainforests that surround Colorado River. You will see animals such as monkeys, toucans, sloths and iguanas.
We told you that white water rafting Costa Rica has grades of difficulty for each person that want to take this tour. You also ought to know that safety is a word that comes with our tours.
Security is very important for our visitors and clients; therefore, it is mandatory that your white water rafting guide provide you safety and protection kits. These gears must cover helmet and life vests.
Likewise, there are other things that you can do to stay safe while doing white water rafting Costa Rica. One of these things is paying attention to your operator's instructions and where you at.
Use sunscreen lotion to protect your skin and avoid a sunstroke. Wear proper footwear like enclosed shoes or waterproof shoes. Try not to wear flip-flops because your feet may get hurt.
Wear proper clothes like long sleeve shirts and shorts. It is okay to wear swimsuits and light clothes, but it is safer to wear shirts to cover your arms and to prevent injuries in your body.
We offer you Pozo Azul rafting tour as part of our adventure tours Costa Rica. Nevertheless, we also recommend you other rivers that can fulfill your white water rafting experience.
All tours have professional guides and white water rafting tours that will take you to an unforgettable day. For white water rafting Costa Rica we recommend the Savegre River, Naranjo River, Balsa River and the famous Tenorio River in the Arenal Volcano National Park.
Thanks for read: "White Water Rafting Costa Rica – Pozo Azul rafting tour". Share Or Comment this post.
Also try: COSTA RICA GUIDED TOURS – STAND UP PADDLE TOUR (SUP)
Summary
Reviewer
Review Date
Reviewed Item
White Water Rafting Costa Rica – Pozo Azul rafting tour
Author Rating